Lake Okeechobee Fishing in Belle Glade Florida
Fishing Charters in Belle Glade Florida
As you may have guessed, Belle Glade is part of Palm Beach County and located on the shores of World famous Lake Okeechobee. It's located on the east coast of the largest freshwater lake in Florida. Belle Glade fishing trips allow fishing of different species, big largemouth bass found in and around the grass flats of the surrounding areas. The area also because of the almost unlimited grass structure leaves lots of opportunities for trophy bass.
It also has great crappie and bluegill fishing. Because of the quick access to Torry Island and Slims Marina, it is by far the most convenient area of Lake Okeechobee for anglers to fish. Belle Glade fishing areas produce big enough bass to win the biggest tournament in the lake, and that's what the locals call Bay Bottom.
Read More
Why Consider Belle Glade Fishing
When we run Belle Glade fishing charters on the lake, we have an unrivaled knowledge of the waters and hope to make each trip a true pleasure for all of you and a combination of learning and history lessons.
All the Captains in Belle Glade have a least 21′ boats, naturally, the most suited boat to fish these waters. 225 HP or 250 HP outboards power everything, these are very comfortable boats with maximum speed, agility, and fun as possible. All vessels are equipped with sufficient navigation electronics, and safety gear and have an anchoring system to make sure we comfortably get to and stay on the most productive fishing spots.
Belle Glade fishing charters target the most popular fish on the lake, largemouth, crappie, and bluegill. The lake is abundant with panfish, and they're delicious to catch and eat. Our primary goal is to make your trip an experience, a very enjoyable and memorable one at that.
The Belle Glade fishing guides will work hard to put their talent to work for you; they have years of experience and are prepared for all conditions. We provide top-quality rods, reels, tackle, and lures to give you every opportunity to catch that fish of a lifetime.
Belle Glade fishing charters can be booked for 4 hours, 6 hours, 8 hours, or 12 hours. They are most commonly fished with two people plus a guide. But it is not uncommon to have a third or fourth person on the boats and the fishing captain. You have the option to use tournament-proven artificial lures, heavy or light tackle. Wild shiners on spinning or baitcasting equipment. Fly fishing is also an option, just let us know at the time of reservation so we can connect you with a fly fishing expert in advance.
Part of your overall experience includes filming if you don't mind; we also take photos of your catches and put them on Social media. After the trip is completed, the Captain will be happy to send you pictures or video at no charge after a trip.
So come aboard, enjoy the day with a professional Pahokee fishing guide exploring the hottest spots around the lake. Please look around the page and website. If you have any questions, don't hesitate to contact us!
BELLE GLADE BASS FISHING CHARTERS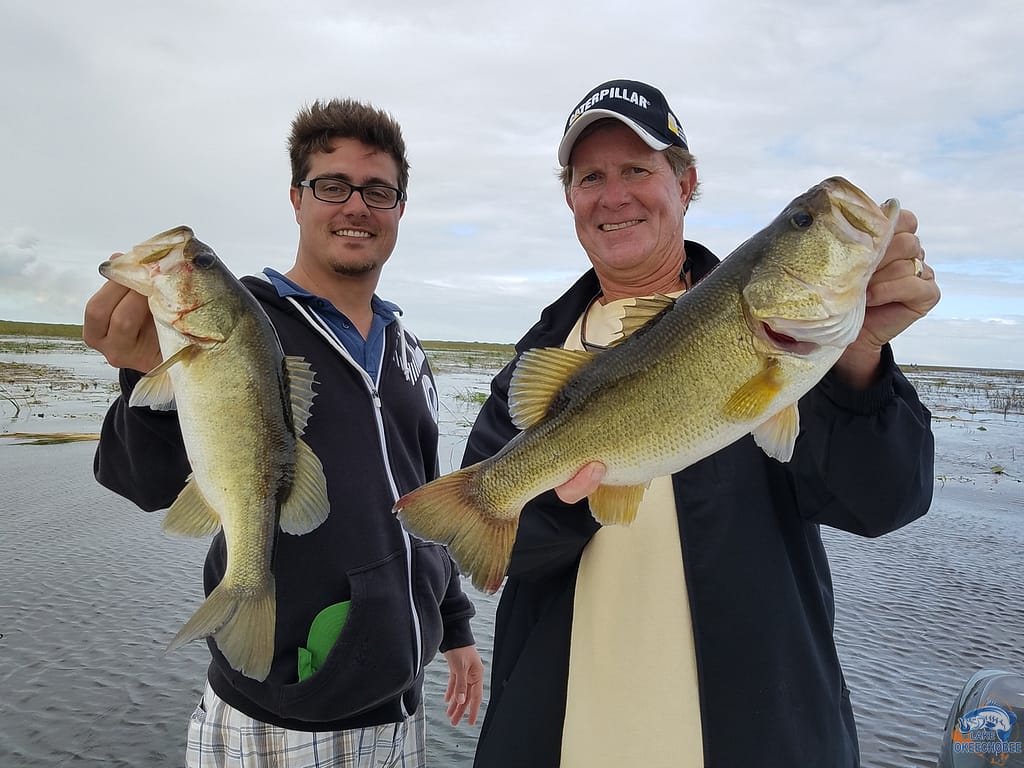 BELLE GLADE CRAPPIE FISHING CHARTERS
Belle Glade Fishing Trip Details!
Highlights
Savor the History
Trophy Bass
Fully Guided
Alligators & birds
Family-friendly
Group Experience
Inclusions
21′ Boat
All Equipment
Fuel
No Taxes
Cooler & Water
Fishing Lessons
All Fishing Lures
Exclusions
Fishing License $17
Gratuities
Live-bait
Food
No Cover on boat
Max Capacity 4
Limited Availabilty
Pickups
Area hotels
Local Marinas
Car Service
Uber Avauable
Lyft Available
Limo Services
Guide Pickup
Services
Crappie fishing
Largemouth
Bluegill Fishing
Fly Fishing
Live-bait Fishing
4, 6, 8, 9, 12hrs
OKEECHOBEE'S MOST POPULAR BELLE GLADE FISHING GUIDES
Capt Galen Fugh
Belle Glade & Okeechobee
Per Person • Up to 3 People
Capt Wayne Fellows
Belle Glade & Pahokee
Per Person • Up to 5 People
Capt Mark Shepard
Belle Glade & Clewiston
Per Person • Up to 3 People
trip itinerary
Reservation is followed up by email itinerary
Itinerary has time, location and Captain info
Your Captain will contact you 12 to 24 hours before
Meet at confirmed meeting location
Captain will greet everyone and help with boarding
You will fish and sightsee for hte trip length
End of trip, captain will return you to starting location.
Awesome Captain great time
★★★★★
"
We always say we will write reviews for places and never do. This one is much needed, we booked a 4 hour Bass trip in middle of August 2016, and ended up with an amazing guide, Capt. Mike Groshon. It started with a check in phone call the day before which was very informative and helpful. In the morning we met Capt. Mike and couldn't of been any happier with the turnout. He was professional yet personable and it truly exceeded our expectations. We had fished many times before but never on a bass boat. He was there to help when we needed and to stand by and watch when we doing what we already knew. Both of us learned so much from him. I can't thank him enough for being our guide and giving us an adventure we will never forget. Over a dozen fish were caught and we left feeling like our money was well spent. Highly recommend!
"
Serious Good Trip
★★★★★
"
When was fishing NOT a good time? Me and my friend Jason went out with Capt Mark and had the time of our lives. Highly recommend if have never experienced this!
"
Capt Ed...
★★★★★
"
I want to thank Capt Ed for his fantastic guide service on Lake Okeechobee. If this is any indication of his ability to put me on the fish, I don't know what is: I showed up planning on fishing for a day and ended up fishing for three! Ed put me on many, quality largemouths all three days, including my personal best and an even bigger "one that got away." Ed knows just about everything about the lake, the fish, and and what fisherman need to have a great day. I recommend him 100%. I'll surely be back myself.
"
Belle Glade Contact Form
Contact us about Belle Glade fishing or anything else in the area we can help with!
Okeechobee Fishing Reports with Real Customers You Can Trust
Read More about Belle Glade Fishing on Lake Okeechobee!
Belle Glade Bass Fishing is on the east side of the lake and considered some of the easiest access from Palm Beach Fl. Lake Okeechobee is the Fishing Capital for trophy bass fishing in Florida, as well as other sportfishing, and Okeechobee is one…
The Florida Crappie fishing, speckled perch or speck as they are called throughout the State of Florida is the most sought-after panfish on Lake Okeechobee. Although the Florida crappie or speck can be caught during the summer months, they really…
Lake Okeechobee bluegill have an attitude for there size and fight better than any other freshwater species of panfish. Bluegill are fun to catch and are second to none in the frying pan. Catching a mess of big bluegill is a common event throughout…
Lake Okeechobee Directory
Find everything from accommodations, motels, and hotels. Restaurants, Shopping, and Marina's for next Belle Glade fishing trip.
Join the TEAM
Get more Belle Glade fishing trips, have more fun and build a real business!
Add personal info, where you fish, your boat details, photos, history, new to guiding or an old pro. Once you submit your listing we will contact you to start the approval process.
We specialize in keeping you booked, our fishing guides work year-round, low and high season. Why be on an island by yourself, work with a team of professionals.
Our support team is here for you and your customers – 7 days a week. All you have to do is approve or decline booking requests right from your phone. We build customers and reviews to help you.