Lake Okeechobee Water Level Today
These are direct live feeds from US Army Corp of Engineers Website showing the current Lake Okeechobee water levels today as it changes in water levels of Lake Okeechobee.
The first feed is the current Water level; it is constantly updating with autocratic water level conditions for Lake Okeechobee.
This feed of Lake Okeechobee provides via a satellite pump & water flows around Lake Okeechobee, including all depth changes. If the feed is unreadable, here's a link to the Water Management page.
This chart provides monthly Okeechobee water levels compared over two years. The graph compares high and low months during different time frames.
Who Really Controls the Lake Okeechobee Water Level Today?
The water levels on Lake Okeechobee will fluctuate 6 feet in some years, others a foot or two. The average water levels on Lake Okeechobee range from 12-15 feet above sea level. The average water level on Okeechobee in the summer months ranges from 11-14 feet above sea level. The water levels on Lake Okeechobee mainly rise and lower do rain or the lack of.
Additional WM Resources [Daily Reports] [Graphical Plots] [Maps] [Okeechobee Waterway Spillway Webcams]
Most of the freshwater in Florida runs North to South, making the main replenishing areas between Orlando and Lake Okeechobee.
Because of this, the South Florida Water management has controls all the pumps that move water from one place to another. So no matter the navigation level that the corp shows you above, you want to watch these pumps and look at the upstream and downstream levels to know what the water level will be tomorrow. So click the image below to go to live Lake Okeechobee water level by pump flow!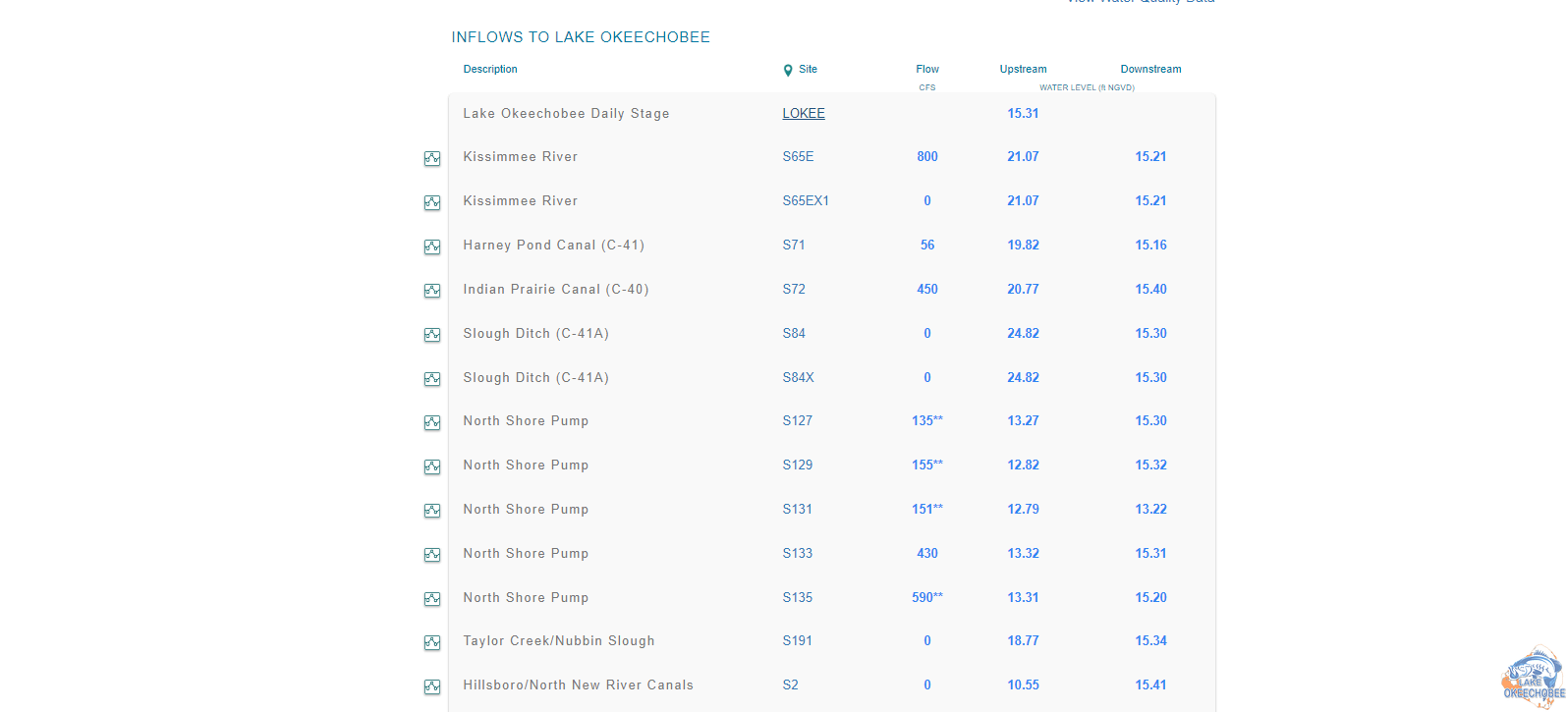 Summer months usually bring most of the rain, mainly during average years from afternoon rain showers or either tropical storms and hurricanes. This is when most water levels rise in Lake Okeechobee the fastest. During the winter months, the water levels in Okeechobee will consistently fall from January thru June. The lake fishes, like most rivers…much better on a falling tide vs. a rising tide.
However, with the onset of the dry season, some of that water will eventually have to be released but when? And where?
Polk said the Corps dry-season strategy has yet to be finalized. "Before Hurricane Nicole, I could have told you we have a firm dry season strategy. But Nicole, it threw us for a loop. Fortunately, it was at the lower end of the spectrum as far as what we saw from rainfall. Today we're at 16 and a quarter feet, 16.25. And I'll tell you in about two weeks I'll tell you where we're for a dry season strategy."
The US Army provides these Lake Okeechobee water levels. Thank you for using our site, and don't forget to "Add this page to your favorites."