Lake Okeechobee Fishing Records Catch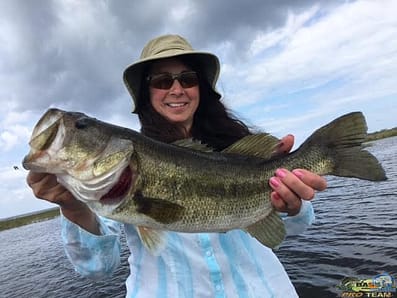 Lake Okeechobee fishing records, commonly known as the "Big O" is easily accessible from all sides and frequently visited from Florida's east and west coasts. The lake is shallow and provides ideal forage and habitat for bass. If you want to catch big bass, the "Big O" is the place to consider. Anglers routinely catch 5 to 10-pound bass, and 10 to 12-pound bass occasionally show up. The lake record is 15 pounds 5 ounces. Anglers do well fishing in bulrush, hay fields, needle grass and ell grass which located all around the lake in places. The popular locations for trophy bass are near Eagle Bay Island, Little Grassy Island and King's Bar at the north end of the lake. At the south end, it's the South Bay area, Rita Island, East Wall, and Coots Bay. On the west and southwestern shores, there's West wall, Uncle Joes, Blue hole, the shoal, Moonshine bay (when water permits) and the Monkey box area.
The largest bass was caught using live golden shiners and casting into, or along the edge of vegetation. Plastic worms, spinner baits and frog style baits are also often productive. Flipping lures into vegetation often produces the larger bass on artificial lures. Lake Okeechobee has a 5 bass limit per angler, which only one of those 5 can be over 18-inch in length.
Considered by many as the best panfish lake in the world, anglers descend upon the lake and its rim canal, often starting in January and continuing through late fall. Fishing here ranges from "spectacular" during bedding season to "good" throughout most of the year.
Okeechobee is also called the crappie capital of the world. Areas such as Okeechobee City, Buckhead Ridge, Moore Haven, Clewiston, South Bay, Belle Glade, Pahokee, Canal Point, Sand Cut or Port Mayaca are all excellent starting points. From December through April literally tons of crappie will be hauled from its waters by recreational anglers. While crappie can be caught by drifters and slow-trollers in open waters and Rim Canal throughout the year, it's the cooler months that attract the multitudes.
For more on Okeechobee, fishing records visit MYFWC.com for state records.