Do you know why Florida is regarded as the Fishing Capital of the world? It is because Lake Okeechobee is situated there. The lake is quite iconic, given its largemouth bass fishery, which extends up to 730 water miles. To fish on such a vast water body could be quite tasking given its immense diversity and habitat quality. So read along as we explain the process.
Okeechobee fishing doesn't require a high-speed boat with outboard engines of up to 250 horsepower, but it's helpful if you have one. No worries, to a beginner, any access to a boat will work. Because of its size, it's a great help as you can quickly navigate through the large water body. Read on to discover many tips from local Lake Okeechobee fishing guides.
TIPS ON HOW TO EXPLORE OKEECHOBEE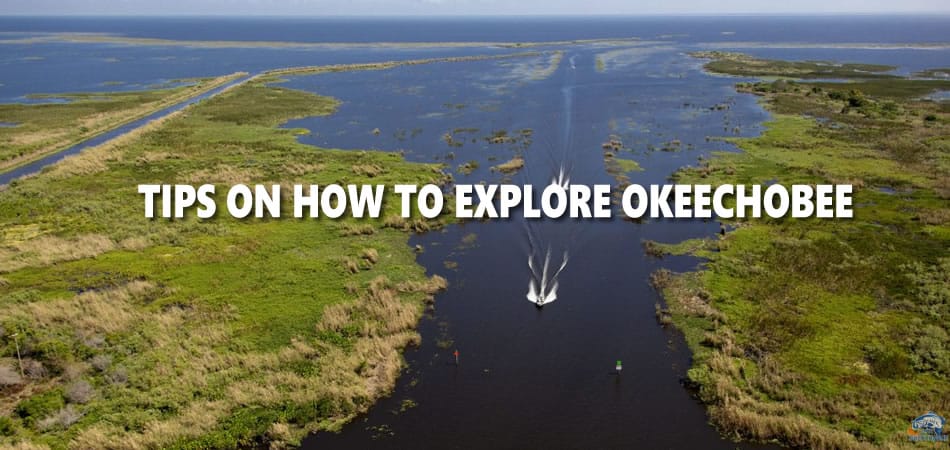 Have a Vessel
As mentioned earlier, a boat is needed to fish at Okeechobee for the best results. Even local fishermen at Lake Okeechobee always say that there's an essential required to explore the waters: in a boat! With a fast boat, you will be able to cover more distance within a short time, and this is the best way to discover the lake and ultimately find the fish!
Lake Okeechobee is known for its serenity and its popularity. You will find many boats on many weekends along the shorelines, filled with guests of all ages.
Exploring on Foot
You must note that going on foot isn't advisable if you are exploring Lake Okeechobee for the first time. However, if you have familiarized yourself with the terrain, fishing on foot from the shore can be a way of discovering the extent of the lake's tranquility.
There are numerous alternative areas for fishing on foot, and these are the grassy or rocky banks, concrete walkways, fishing piers, and so on. Fortunately for you, these places are walkable and fishable. You should also be aware that fish aren't the only things that inhabit Okeechobee waters.
One of the deadly things here is the famous Floridan gator, which is why it is advisable to keep an eye open as they are very stealth-like.
Fish from the lake's piers that the lake offers is much safer, so safety comes first before an adventure. Alligators aren't the only thing to be concerned with; keep an eye open for Snakes, especially the local water moccasin.
Given that Lake Okeechobee is home to numerous species other than black bass, on your trophy bass expedition, beware of your surroundings at Lake Okeechobee while fishing.
An experienced Guide
Okeechobee bass fishing has attracted lots of people, and it still does. You will also need a professional guide who knows the terrain well to navigate the Okeechobee waters.
The focus should be to take you to the best spots on the lake. Ensuring you'll save a lot of time searching and more time fishing. A quality fishing charter will allow you to use quality rods and reels and learn all aspects of the lake much faster.
KAYAK FISHING
Kayak fishing at Lake Okeechobee is a great way to escape into the thrills of nature, and barely a handful of people get to experience it. As much as paddling your way through the largest lake in Florida could be adventurous, it isn't easy.
It would be helpful if you were vigilant that you have to navigate and control your vessel and fishing rod simultaneously. To do this, you will require a great deal of focus and strength. If you have the skill to handle it simultaneously, then it's worth a try.
Besides, kayaking on Lake Okeechobee can be quite dangerous, given the presence of 'gators. On the other hand, most kayakers explore the creeks and tributaries of the lake. Being narrower, they are less acceptable to weather, easily navigable, and less 'gator-filled.
TOP FISH SPECIES IN LAKE OKEECHOBEE
Species choice is essential for preparation; it's tough on Okeechobee to fish for mutable species at once, but not impossible. The big concept is to do your research on techniques, the best lures to use, and the correct areas to fish. Do it beforehand, not on the water, and research areas for the species you want to target.
Look at the water forecast, the wind direction, and the places you can fish, even if the wind blows. Okeechobee often is all about finding places with clean water and looking for places where grasses will filter out the dirt and the sediment that the wind creates. Your best bet is to look for the best water protected from the weather, no matter the species.
LARGEMOUTH BASS
Lake Okeechobee has always been home to the most popular species of fish. One such is the largemouth bass fish. According to the locals, this fish is one of the reasons Lake Okeechobee gained prominence.
The famous largemouth bass fish inhabits almost all corners of the lake. It is a carnivorous freshwater game fish distinguished from other bass types due to how large the lower jaw is and how it extends even beyond the edge of its eye.
This fish species is essentially attracted to a vast range of lures and loves live bait as it's the leading predator of the lake. This is why you can almost always get them to bite when you find them.
CRAPPIE
Lake Okeechobee fishing will never be complete without the crappie fish. This fish species is also called the Black crappie or the speckled perch. They are relatively small, and they inhabit Lake Okeechobee in their millions.
However, they are also straightforward to catch and delicious tasting. Going on a Crappie fishing adventure with your kids is an easy way to get your kids to love fishing. Besides, this fish species is accessible around the lake, with the Kissimmee River and Belle Glade area being the two prime areas. Look for calmer waters with or near deeper drop-offs when fishing rim ditch and the river. During spawning months, look for shallow Kissimmee grass edges and points in the lake.
Since Lake Okeechobee isn't over 9 feet deep, it is a great place to cast a line for these delicacies. They love shoreline waters the most during the spawn, especially when enough vegetation is around for protection.
BLUEGILL
Another popular type of Okeechobee fish is bluegill. It has a panfish-bodied look, a slightly forked tail with a long fin that is dorsal. It can also be found in every part of Lake Okeechobee. Similar to the crappie, the bluegill fish is also relatively easy to catch.
Although they eat their larvae and insects, the best bait you can use for the fishes are live crickets or worms. Sand maggots, grass shrimps, or grubs would also catch nice bedding bluegill.
Look for these fish to spawn as early as April and as late as July, making them easy prey for large bass and anglers alike.
REDEAR SUNFISH
The Redear Sunfish is another popular species you can find in Okeechobee Lake. This type of fish is distinctive for the bright red mark at the edge of its gills. They are found in hard bottoms and stay in deeper water than bluegills.
However, the Redear Sunfish is captured using worms and using beetle spin lures. They also have the same spawning habits as their sister bluegill.
How to Fish Lake Okeechobee
Divide the Lake into Sections
I have worked with many of the pro anglers that come down every year for tournaments, and one thing that that all the successful ones have in common. They never attack the lake as a whole; they typically split it into four or five pieces and dissect it from that point.
They are not counting the rim canals, which can be very productive during low water conditions. At times, those channels that go all the way around the lake are very abundant with fish. There are many backwater areas; these areas can be exceptional if you find fish protected from mother nature.
Understand the Current Pattern
Fishing the spawn is widespread, generally the most popular time of the year. Lake Okeechobee is unique because many fish will spawn from December to May. So it's not necessarily a winter pattern, although the cooler weather change seems to trigger it. The lake is famous for the fish's average size, but most people don't consider why?
Because of the long spawn season, it's one of the only lakes in the world that has thousands of fish trying to pre-spawn, spawn, and post-spawn simultaneously.
What's that mean for you? You need to understand which fish you are going to target. Is it the pre-spawn fish setting up on the outside grass edge, the active post-spawn fish swimming up and down the shoreline just looking to blast anything? Are you targeting bedding areas or looking to find fish moving in and out to spawn?
The pattern choice is one of the most critical mistakes we see anglers make, so know what you want to target and why. Typical for all species on the lake, although crappie and bluegill have a much smaller spawning window.
Prepare your Equipment for the Pattern
The type of rod, bait caster, or spinning outfit is up to you; they both will work and have their purpose on the lake. I will not name rod and reels; it's not that kind of article. But I want to talk about preparing for the lures you plan to use. It's pretty simple, but we see many people make this mistake.
On Okeechobee, unlike many lakes, you are fishing it to get that once-in-a-lifetime bite. And many do; unfortunately, the majority are not prepared with the right equipment and only go home with a heartbroken story of the one that got away.
The reason is the correct equipment has the most considerable percentage chance of catching those fish. A seven-foot action rod designed for flipping and punching the grass mats is great for exactly that. You won't use a 5′ spinning rod with a 10lb line. Please think about the pattern you are going to choose. The lure you want to throw and ensure you appropriately use the correct setup for that condition.
Setup is Key
And when we say setup, we mean the line size, rod stiffness, and reel ratio. This tip is about landing more fish, not getting more bites.
You don't want to throw a crankbait on a flipping stick or fish a worm on a crankbait rod. You can, but it will directly reduce your landing of fish.
That's important. Don't overwhelm yourself with to many rods and reels. Still, as you want to learn new techniques, catch different species, and target bass at other times of the year, the proper setup will play a critical role in that success or failure, especially when fishing Lake Okeechobee.
Frustration will lead to Disappointment.
Okeechobee is an overwhelming water body; even the local guides that fish it daily get disappointed. It's overwhelming to many because it just all looks so go; where do you start, as everything from the surface looks the same? It is finding the right area with excellent water quality and grass and abundant grass.
Work in that area. And you've got to think there's a population of fish that use that backwater to spawn and go through their life cycle. It's finding that right area, squatting down, and figuring out if they are on the outer edges and outer reed lines in the deeper water or are they up in the flats trying to spawn. Do that type of thing, and you will have less frustration.
FAVORITE SPOTS TO FISH FROM
Lake Okeechobee's vastness does not mean that it is brimming with varieties of fish you can catch. But it does make knowing where to fish a pretty daunting task. Knowing where to cast would make fishing more fun and a lot easier.
So, below are some favorite spots you can easily fish from shore or by boat. Do use this travel guide, as it's a big lake.
OKEECHOBEE CITY
The city of Okeechobee is the largest city located around the lake, and its located at the very tip of Lake Okeechobee. It provides enough access to the bass-filled waters and also the Kissimmee River part of the lake. If you are a newbie or going fishing with your family for the first time, Okeechobee might be an excellent spot to start.
Of course, the lake's namesake provided access to the lake's northern panfish-filled waters. It's the perfect starting point for a wide variety of access to kayak launches, fantastic boat ramp facilities, and a plethora of charter boats. If you're looking for an on-land experience, you can also access the Lake Okeechobee Scenic Trail here.
SOUTH BAY
The Bay bottom spans between Grassy Island and Torry Island in Belle Glade. This area is one of the most adored spots for bass fishing. Its waters are relatively calm and the perfect spot for all anglers.
It's also the best place on Okeechobee to fish from shore, thanks to the calm waters and access. You'll want to visit this area at any time of the ear, and an excellent place for camping. With temperatures cooler, the bite is hot, so make sure you warm up!
The Belle Glade area is the most diverse area of the lake; BassMaster, FLW, and many tournaments have been won in this area. While the fishing is some of the best on the lake, the local accommodations are very minimal.
CLEWISTON
It is a popular area for boaters with easy access and many accommodations for anglers—also, quick access fishing from the shoreline along the canals and rim ditch.
—Clewiston is on the extreme opposite side of the lake to Okeechobee City. You'll enjoy fishing from a boat in this area. It houses largemouth bass, bluegill, and some crappie areas. So you might want to come to Clewiston if you'll get enough of these species.
Clewiston also offers up a wealth of boat-based fishing action. You'll find plenty of fishing charter options here, offering adventures for new and experienced anglers alike. Unsurprisingly, largemouth bass is the most popular target in these parts, and you'll also find plenty of crappies and other panfish to reel in too.
Both areas are funnels for bass changing seasons; boating to nearby West Wall and East Wall will lead to success. The spaces repopulate well and consistently give up quality size fish.
However, you can also find plenty of bluegill and other types of Panfishes.
FISH EATING CREEK
You can find this location in the western area of the lake. If you are the type that loves freshwater fishing, this is the right place to fish. To properly explore this shoal, you can either fish on foot or from a Kayak. It holds the bluegill, largemouth bass, and crappie species.
The clue's in the name. Stemming out from the lake's western side, Fisheating Creek is a "must visit" for any angler looking to capture a piece of the lake's most tranquil. Kayaking and fishing on foot are the most popular ways to explore this idyllic creek, where you'll come across plenty of wildlife and have access to all the fish species on the lake.
THE SHOAL
This area is home to grassy and thick waters. It is a vast location that covers almost all of the west side of the lake. During winter months, it is the best area to fish for largemouth bass and crappie. You can easily cast a line from a vessel, but the site is not accessible by foot.
This vast area covers most of Lake Okeechobee's west side, between Clewiston and Horney Pond, so it might feel a little bit like we've cheated by including it. However, we couldn't leave it out!
It's home to the most challenging bottom on the lake, with lots of rock, so beware during low water conditions. This area really comes to life during the fall and winter months, although it has a great summer bite with lots of schooling fish. Need we say more?
FINAL THOUGHTS
Lake Okeechobee is the largest lake in all of Florida and is widely known for its serenity, tranquility, and variety of fishes. It will be quite an expedition to explore this unique water body. So, follow the guideline here, prepare, use preparation, and success will follow.